Ron Korb: Asia Beauty
© Reviewed by John Arkelian
Taking its name from the artist's latest (Grammy nominated)
album, flautist Ron Korb's May 20, 2017 concert at the St. Francis Center in Ajax, Ontario wowed the audience with its double virtuoso display of composition and performance.  All of the music was composed by Korb, and most it was performed by a talented ensemble on piano (Bill Evans), cello (Wendy Solomon), drums (Larry Crowe), and erhu, a two-stringed musical instrument from China (Xiaoqiu Lin).  Korb himself played flutes of every shape and description.  His music is a melodic dreamscape of changing moods and eclectic influences.  You are as apt to encounter echoes of Bach here, or a reimagining of an Irish jig, as you are colorful influences from the Orient.   The result is spritely, full of zest, and often very moving.  Korb's music captures his listeners – and holds them spellbound.
Things get off to a start with "Blue Bamboo," a mash-up of American blues and Asian music that doesn't sound exactly like either,
preferring instead a unique sound all its own.  There is poignant romanticism in "Green-Eyed Maiden," which takes as its inspiration a scene from an Arthurian tale.  "Ancient China" brings the erhu to stage:  Very distinctive and very definitely evoking the Far East, that instrument often has a bittersweet sound, though it later proves itself capable of being playful.  "Children's Jig" combines Chinese and Irish influences, sounding engagingly jig-like.  "Mozart's Wedding" is a fanciful piece, a contemporary reimagining of music in the style of Mozart.  It proves to be a show-stopper:  As lively as it is lovely, it's also another standout demonstration of Korb's impressive versatility as a composer – melding musical styles from different places and different times.
"Beckett's Whisper" imagines the writer living in France, his wistfulness for his native Ireland expressed by the poignant notes of an Irish flute.   "Hanoi Café" immerses us in the mood of Vietnam during the French colonial period:  The result is evocative – with a capital 'E.'  "Shadow Puppets" is an infectious clap-along piece, and the audience didn't need any coaxing.  "Galloping Horse" is the playful erhu solo alluded to earlier, and its name says it all.  Another guest, Ray Hickey Jr., joins the ensemble for a single piece, "Visiting Spirits," on a three-string Japanese instrument.  Then comes "Little Jade," with its expansive feeling that conjures a visitor arriving in the Orient for the first time.  The recurring theme of unrequited or ill-fated love is revisited in "Forbidden Home," while "Dark Eyes" has the audience clapping along again, and "Fields of Home" has a wistful Irish sound.  And we are treated to two renditions of one of the concert's stand-out pieces, "Saint Johann," which juxtaposes an irresistible flute section (that brings Moe Koffman to mind) and a jazzy piano part.  We can't wait to see Ron Korb and his ensemble perform again:  The man is a phenom, and he has surrounded himself with very fine collaborators.
John Arkelian is an award-winning author and journalist
Copyright © 2017 by John Arkelian.
Editor's Note:  For more on Ron Korb, visit him at:  https://www.ronkorb.com/
******************************
Concert Overview:
In the Eastern Reaches of the GTA
© By John Arkelian
Spring 2017  
It's an unabashedly subjective thing to say, but the best thing about the Ontario Philharmonic's January 2017 concert at Oshawa's Regent Theater was "Les Préludes."  .  Romantic with a capital "R," Franz Liszt's 'tone poem' has mesmerizing melodies and swooping moments of intense drama.  Its ever-changing moods run the gamut from gentle rhapsody to urgent ferocious conflict.  If someone could turn these musical images into celluloid ones, what an epic romantic cinematic drama they'd make!  The composition's ultra high energy is a thrill – and a show-stopper, eclipsing all else by virtue of its intrinsic brilliance and emotional heft.   But the program has other gems.  Dvorak's "Slavonic Dance No. 2" conjures a horse-drawn sled gliding across wintry steppe and then a waltz that is by turns spritely and coquettish.  Then comes Liszt's "Hungarian Rhapsody."  With moments pastoral and regal, it's a musical grand jété, seeming very much to speak to the world of ballet with its sheer physicality before coming to a climactic close.  A substitute guest cellist is featured in Dvorak's "Cello Concert in B minor."  The composition is impassioned from its opening notes; and, like the rest of the program, this piece is effectively colored with folk music accents.  When the cello comes in, in the first movement, it's like a rhythmic counterpoint to the orchestra.
 The Clarington Concert Band, directed by Barry Hodgins, celebrated its 25th anniversary at its concert in April 2017.  There were highlights aplenty.  Take the glorious "Kirkpatrick's Muse," for instance.  It has a gentle, introspective start, then it takes on the sound and tempo of an Irish reel as the percussion builds force; at one point, it takes on the character of a march.  The late Howard Cable's "Newfoundland Rhapsody" is fast and fun, with a figurative twinkle in its melodic eye.  A medley dubbed "John Williams in Concert" carried us to places inhabited by E.T., Jaws, and the Star Wars cantina, but its chief delight was the Imperial March from the latter film series.  Guest singer/guitarist Danny Bronson favors the oeuvre of Gordon Lightfoot, though he's quick to note that, "Gord has someone plug his guitar [in] for him; I have to do it myself."  His rendition of "If You Could Read My Mind" sent shivers of emotion down this listener's spine.  He's back later for the "Canadian Railroad Trilogy," and it, too, strikes an emotional chord.  In an embarrassment of riches, the band has additional guests, in the form of Bowmanville High School's Choir & Women's Chorus.  The chorus does poignant renditions of "In Flanders Fields" and "Frobisher Bay."  The choir has a haunting rendition of Leonard Cohen's "Hallelujah" that is one of the stand-outs of the program.  Congratulations to the Clarington Concert Band for 25 years of enriching the musical life of the region.
Speaking of anniversaries, 2017 marks the 50th year for another regional institution – the County Town Singers.  They celebrated in fine form at their concert in May 2017, "Here's to Song," under the direction of Michael Morgan.  The best in show goes to Leonard Cohen's "Hallelujah," which has gentleness rising to a crescendo of feeling, and to "We Rise Again," a Rankin Family favorite that's as inspiring as it is emotional.  The choir's guests is Claidhmor, under director Lynn Swanson, which has male vocalists clad in kilts, singing Celtic and Maritime songs, like their standout piece "I Will Walk 500 Miles."  And the County Town Singers have another hit on their hands with the rollicking good fun of "What Do You Do with a Drunken Sailor?"
In May 2017, the Pickering Community Concert Band, under music director Doug Manning, marked Mother's Day with music.  There were medleys from the Beatles and from the swing genre.  There was the triumphal finale from the second act of "Aida," including its great march section.  There was a lively and ever-so-catchy medley of tunes from the Latin rock band Santana.  And, there was the jazzy, languid "'Round Midnight."  The Whitby Junior Brass Band (led by Gerry Murphy) was on hand as guests, and one of their pieces, Michael Bublé's "Sway" was among the concert's standouts:  With its salsa rhythms, it was a musical invitation to get up and dance!
The Durham Philharmonic Choir, under Robert Phillips, presented "Music for Living" in May 2017, with an eclectic array of source material that included Dolly Parton, Leonard Bernstein, and Ralph Vaughn-Williams.  A stand-out piece was "You Raise Me Up," which exemplified the emotional power of music.  The choir's guest was soprano Anna Macdonald, who was the winner of their Marianne Turner Memorial Scholarship last year.  In addition to her solo pieces, she joined the choir for another of the concert's standouts, John Rutter's "The Gift of Music," which was pretty and upbeat, sounding like it came from a Broadway show.  Instrumentalists Joanne Averill-Rocha (on flute) and Elizabeth Lambert (on oboe) were welcome participants, with, for example, a haunting flute melody enhancing Bernstein's "A Simple Song," sung by Macdonald.  Another standout was "A Canadian Folk Medley," which transitioned between three songs, with changing moods and tempos, with "Remember the Red River Valley" striking a poignant chord.
Oshawa Opera is Durham's best-kept musical secret – and it's a musical treasure into the bargain.  Under artistic director Kristine Dandavino, they presented a concert of vocal music from diverse composers in June 2017.  The concert was titled "Träume," after a work by Wagner.  But everyone from Saint-Saëns to Debussy, and from Vaughn-Williams to Verdi, was represented on this program.  Our favorite piece was "O soave fanciulla" from "La Bohème," a duet between Natalya Gennadi and Jason Lamont that wowed the audience.  That famous piece elicited shivers of sheer delight, and the duo walked off the stage singing "amore, amore."  The equally impassioned "Vesti la guibba" from the opera "Pagliacci," with Lamont and piano, had a nice operatic laugh in mid-song.  We got "something spicy" with Shostakovich's "Misunderstanding," in which Gennadi's vocal projection was matched by the animated physicality of her acting with face and body.  Elsewhere, her "Na chovni" by Ukrainka was haunting, while Lamont's "Ich grolle nicht" by Schumann was powerful, passionate, and soaring.  Dandavino, for her part, had a great showcase for her vocal talent in the moving and evocative "Blow the Wind Southerly."   Ravel's dreamy "La flute enchantée" was a lovely collaboration between Dandavino, flautist Joanne Averill-Rocha, and pianist.  The concert opened with a trio of pieces featuring confident newcomer Emily Rocha: a lovely young vocalist, she's someone to watch as her career progresses.  Her appealing voice was note-perfect in "Une flute invisible," a sweet love song by Saint-Saëns.  Dandavino and Lamont had a verbal joust, with one imploring, the other denouncing, in "No, no Turiddu" from Mascagni's "Cavalleria Rusticana."  And the concert ended on an inspiring note of hopeful promise, with Dandavino, Gennadi, and Lamont singing "Make our Garden Grow" from Leonard Bernstein's "Candide."  The singers, flautist, and pianists Margaret Motum and William Shookhoff gave us a delightful afternoon at the opera.  Whether you are a confirmed opera buff or not, Oshawa Opera should be at the top of your list of musical must-see treats to experience!
Fall/Winter 2016-17   
The County Town Singers, under music director Michael Morgan, got Durham Region's Christmas concert season off to a lovely start with their "We Wish You Christmas" program in December 2016.  The show's top two standouts were "Angels in Seven," a new version of the classic "Hark the Herald Angels Sing," and "For Unto Us a Child is Born."  The latter was a bouncy variation on the classic with an infectious rhythm; but it was also quite moving in places.  "Breath of Heaven" was a bittersweet song for seven women, including soloist Jeminia Lal.  "Follow that Star" had various nice counterpoint contrasts between different sections of the choir, sounding at times like a spiritual, at times like "Star of Wonder."  The a cappella version of "Deck the Halls" had lots of embellishments combined with familiar parts.  "White Winter Hymnal" drew us in with its repeating, reel-like rhythm.  The poignant "I Wish You Christmas" was dedicated to the choir's ailing assistant director Liz Araujo.  And, the encore selection, "Nutcracker Jingles" playfully alternated familiar melodies from the classic ballet with the popular carol "Jingle Bells."  What better way to put listeners well and truly into the spirit of the season!
 The Pickering Community Concert Band, under director Doug Manning, drew a crowd for its Christmas concert in December 2016.  "Jingle Bells Forever" re-imagined a classic carol as a band march, getting the full Sousa-esque treatment to very pleasing effect.  The medleys "Christmas à la Big Band" and "A Christmas Festival" gave us generous helpings of favorite carols; and we got a full rendition of the Leroy Anderson staple "Sleigh Ride," too.  Guest vocalist Michelle Kettrick, an accomplished singer of musical theater and opera, brought a lovely voice and polished professionalism to "The Christmas Song" and a carol medley sing-along.  She was back, in humorous mode, conducting the band as much with her hips as with her hands for the lively "Rockin' around the Christmas Tree."  As if one talented guest wasn't enough, the band also played host to the thoroughly entertaining Pickering High School's Senior Jazz & Vocal Jazz Ensembles, directed by Dave Kosurko.   The former transported us to a nightclub, and both ensembles gave fast-paced, sure-handed renditions of works like "Blue Skies" and "Paper Moon."  We've said it before; we'll say it again:  this band gets top prize for hospitality – with a generous array of door prizes and free snacks at intermission.  Owing to the special occasion, a pretty convincing visitor from the North Pole was on hand near the end to add his jolliness to ours.
No concert season would be complete without the Whitby Brass Band (under bandmaster Glenn Ward).  Their concert in December 2016 had the annual favorites "Schneewalzer" and "Jingle Bells," both delivered with irresistible verve in rambunctious Octoberfest style with the audience repeatedly leaping to their feet right on cue.  Those distinctive pieces of repertoire are worth the price of admission all by themselves.  But they don't stand alone:  The triumphal Hallelujah section from Handel's "Messiah" was note-perfect; and the band's "Christmas Celebration" medley was another standout.  And, so, too, were the contributions by their guests, O'Neill Collegiate's Chamber Choir (under Erin Collins) & Senior Women's Choir (under Nancy Allison). Both groups were excellent, with a jazzy "Deck the Halls," a haunting ode (with an exquisite solo) to a red rose blooming, a lovely version of "Carol of the Bells," a playful version of Jingle Bells; the poignant "A Winter's Night."  There wasn't a false note anywhere for these two talented choirs.  We want to see more of both choirs!   Our only (small) cavil was the volume of percussion accompaniment for a very nice song in Latin:  the tin drums weren't a good fit, though both vocals and percussion would have been very good on their own.  There was sad news that Roland Hill, who served as bandmaster for 30 years, died on July 2, 2016.
In December 2016, the Cape Breton phenoms, The Barra-MacNeils, thrilled a sell-out crowd at Oshawa's Regent Theater with their lively blend of Celtic and East Coast music.
The concert year came to a stirring close at the Regent Theater in December 2016, with "A Quartette Christmas."  Four of Canada's finest singer-songwriters – Cindy Church, Caitlin Hanford, Gwen Swick, and Sylvia Tyson – join forces as "Quartette."  As one of the four quips, "We've been together 23 years, and we're still speaking."  Their renditions of "O Holy Night" and "All Through the Night" are a joy to hear.  "What Child is This?" is another standout, as four strong voices really resonate together.  Cindy Church's "Silent Night" is shiveringly poignant.  The same definitely goes for "O Come O Come Immanuel," which is sung a cappella.  And a song about the Three Wise Men ("a song of glory for the newborn king") gets a gospel-song sound.  But, it's not all seasonal fare.  "Arkansas Travelogue" is a very catchy song about the roadside attractions espied by cross-country travelers.  Quartette was a hit:  Let's hope they'll be back soon!
Winter/Spring 2016   
Oshawa Opera, under artistic director Kristine Dandavino, wowed its audience in February 2016 with "Viva Verdi!" great operatic music from one of the masters of the form.  Selections ranged from "Aida" (the tragic story of an Ethiopian princess) and "Rigoletto" to the instantly familiar hit "Condotta ell'era in ceppi" from "Il Trovatore."  And two sections for a tenor from that same opera had sustained notes that sent shivers of delight down listeners' spines and elicited shouts of 'Bravo!' from the audience.  If you haven't had the pleasure of attending an Oshawa Opera concert, get thee hence!
In March 2016, the Pickering Community Concert Band, under music director Doug Manning, delivered the first-rate musical entertainment which is its hallmark.  The standout of the show was Brian Balmages' "Arabian Dances," which segued from a love ballad inspired by Middle Eastern folk music in its opening section to the epic romance of its middle section and on to the color of an Arabian marketplace in its third.  Drama and passion infused Bizet's "Carmen Suite," and we also delighted to the strains of "Persian March" by Johann Strauss (the younger), Stephen Sondheim's poignant "Send in the Clowns," and Louis Guglielmi's trumpet-driven "Cheery Pink."  And guest vocalist Barry Sears' shined in the Gershwin staple "Someone to Watch Over Me."
 In April 2016, the Durham Community Concert Choir, under director John-Charles Coolen, celebrated "The Golden Age of Broadway."   The concert's standouts were: a choral medley from "Carousel," which included the emotion-packed "Walk On" and "If I Loved You;" the poignant "Edelweiss," in which the tremulous quality of the lead singer's vocal's worked very well with the sweet, simple melody – raising goosebumps (in a good way); the beautifully sung "Some Enchanted Evening;" and the less familiar, but very affecting, "In My Own Little Corner."  From the first musical ever to be commissioned for television, Rogers and Hammerstein's "Cinderella," its lyrics made an impression as they celebrate the imagination:  "On the wing of my fancy, I can fly anywhere, and the world will open its arms to me."
In April 2016, the County Town Singers, under music director Michael Morgan, had their joyous flair for song on full display in "Curtain Up," with such infectious crowd-pleasers as "Consider Yourself" (a perfect representation of the choir's spirit and ethos ), "One" (an ideal showcase for each section of the choir), "Memory" (which was poignant and moving from its first note to its last), the bittersweet "Think of Me," and the contagiously good-spirited "Pinball Wizard."  As an extra treat, we got a nice instrumentalist-only introduction to the show with four musicians.
It's impossible to attend a Horseless Carriagemen concert and leave without a beaming smile.  Their April 2016 concert, "Music: Our Cup of Tea" (their 68th annual show!), launched the choir's new name: Durham Men of Harmony.  Singing en masse, or in one of the group's three in-house quartettes, they deliver an inimitable blend of nostalgia, vocal talent, and good fun.  One of our favorites was on the playbill this year in the form of "The Lion Sleeps Tonight," with its remarkable high notes.  Elsewhere, we delighted to "You Raise Me Up" (a show-stopper, if ever there was one), the poignant "What a Wonderful World," the gentle strains of "My Cup Runneth Over," the upbeat "I've Been Working on the Railroad," the poignant "Shenandoah," as well as "When I Fall in Love," "Paper Moon," and "This Little Light of Mine."  The choir's guests were the quartette "The Aristocrats."  Attired in 18th century finery, they delivered a cappella singing to the bravura degree – a splendid demonstration of the expert use of human voices in musical unison.
Year's End 2015
What way to close out the concert year!  "Lunch at Allen's," the serendipitous quartette comprised of four strong individual singer/songwriters – Murray McLaughlan, Marc Jordan, Cindy Church, and Ian Thomas – made a welcome return (after their visit the previous year, reviewed below) to Oshawa's elegant Regent Theater in December 2015.  Not even a bumptious audience member or two nearby (one of them talking on a cell-phone in lamentably oblivious disregard for everyone else) could negate the high-wattage good feelings generated by these ever so talented performers.  Among the many standouts were "Right Before Your Eyes (Rudolf Valentino)" sung by Thomas;  "Don't You Want to Have Some Fun," "Old Tin Star," and "Whispering Rain" sung by McLaughlan,  "I'll Be Sailing" sung by Jordan; some Christmas fare (as befit the season); and a humorous account of an unfortunate collision between a boot and a whale's backside.  For her part, Church's lovely vocal work shined bright in "Anything but Friends," a reflective piece with a country music sound.  There was obvious affection among the performers and between them and the appreciative, near-capacity audience.
************************************
Fall 2015 Concert Season
© By John Arkelian
Oshawa Opera
Oshawa Opera opened its new season in September 2015 with Puccini's "Suor Angelica," a tragedy in one act that combines themes of loss and despair with spiritual redemption.  With subject-matter like that, it's no surprise that this compact opera is full of high emotion.  The first half is taken up by a sisterhood of nine or ten nuns.  In a nice bit of staging, once they leave the stage, they sit to the side and continue to interject in song.  The tragic heroine, Sister Angelica, is performed with conviction and moving emotion by Natalya Matyusheva (it's her second appearance at Oshawa Opera:  we very much hope there'll be more), and one of her solo sections successfully elicits great emotion, along with elements of nostalgia and poignancy.  Her musical depiction of her character's unbearable loss is achingly heartfelt.  Her plunge into utter despair and her reemergence on the other side, echoed by a sizable celestial choir (comprised in part of the University of Toronto Scarborough Concert Choir) and guest organist Lenard Whiting, brings tears to the eyes – both Angelica's and ours.  The opera is accompanied by artistic director Kristine Dandavino on piano.  Strong singers, emotive material, and an hour-long running time made this the ideal entrée to the operatic medium for newcomers:  And the lovely result eminently deserved a bigger crowd!
******************************
A Classical Evening with Mendelssohn
In October 2015, the Clarington Concert Band presented three talented musicians for "A Classical Evening with Mendelssohn."  Three works by one composer; three first-rate instrumentalists:  The result?  Why, nothing short of an enchanting display of musical excellence.  The band itself did not perform.  But their guests certainly made an impression.  Violinist Andrew Sords and pianist Cheryl Duvall have been the band's guests before. T his time 'round, they were joined by Sawyer Thomson on cello.  The two men are based in the United States, while Duvall (with her pre-Raphaelite tresses) is a local treasure, based here in Durham.  First up was "Sonata in F-Major for Violin and Piano."  There were hints of swashbuckling adventure in its running conversation between the two players.  Another section had an introspective piano opening, while the violin contributes a tentative, sometime inquisitive voice to the section's mood of bittersweet nostalgia. Then comes a vibrant and upbeat section, and the work ends with a flourish.  The warmth of the cello joins the other players for "Trio in D-Minor for Violin, Cello, and Piano." Here, indeed, are three equal players in a work that essays the tidal forces of romance – its ebb and flow, its tranquil moments and its tempestuous ones. There's tenderness in the first section's closing note; playfulness at the close of the second section; and an impassioned and utterly infectious melody throughout the fourth section.  Last, but not least, comes "Trio in C-Minor for Violin, Cello, and Piano," which offers a very nice intense and fast section early on, and later juxtaposes a sweet theme from the violin with more foreboding ones from the other instruments.  We can't wait to see this trio back again next year!
*****************************************************
2014-15 Concert Season in Review
© By John Arkelian
Lunch at Allen's
Oshawa's historic Regent Theater welcomed four of this country's
foremost singer/songwriters on November 21, 2014, as Murray McLaughlan, Marc Jordan, Cindy Church, and Ian Thomas joined musical forces under the banner of "Lunch at Allen's."    Individually, the quartet's members have written for musicians as diverse as Chicago, Bonnie Rait, Josh Grobin, America, Santana, Cher, and Rod Stewart.  Separately, each of these four performing artists is formidable; together, they are a sheer delight to behold, combining hit songs with humorous patter and instantly connecting with their capacity audience.  Their performance was easily a not-to-be-missed highlight of the region's concert season.  Standouts were plentiful, among them Church's "Looks Like Love,' with its instantly familiar refrain; McLaughlan's Old Time Gospel song for secular listeners, "Running on Faith;" Thomas' "You Gotta Know," which somehow combined a rock sound and a distinctly non-rock instrument (in the form of a harmonica); McLaughlan's piano-propelled "Whispering Rain;" Jordan's "Rhythm of My Heart," a certified international hit that was inspired by a Nova Scotia folk song; Church's "Better Things to Do Than Miss You," a nice country tune that showed off the lovely performer's equally lovely voice to very good effect and hearkened back to her Bible Hill, Nova Scotia roots.  All four performers displayed engaging personalities and a natural rapport with each other and with their audience; but Thomas may take first place in the humor department, with a very funny Celtic-sounding song about a series of untimely demises, among them:  a whale with a boot stuck in its blow-hole!  Another Thomas song had a cast of characters that included Greta Garbo and Rudolph Valentino.  And things drew to a well-deserved standing ovation close with a song thanking their all too happy to oblige listeners.  Bring them back say we!  And so shall it be: "Lunch at Allen's" is coming back to the Regent on Saturday, December 12, 2015.  Don't miss them!
***********************************
County Town Singers
Joyful music is infectious, and the County Town Singers are living proof of that.  It is plain for all to see that they are having a good time – and that goes for their audience, too.  The choir's May 2015 concert was dubbed "Legends," for it comprised pop music hits from legendary performers – musicians as diverse as Billy Joel, The Beatles, Patsy Cline, Jerry Lee Lewis, and Irving Berlin.  The concert's standout was Leonard Cohen's "Hallelujah," which was a note-perfect choice for the choir:  It raised goosebumps of sheer delight!  The same can be said for the seamless medley of two emotive songs by Bill Withers:  "Lean on Me" and "We Shall Overcome."  Other highlights were Jerome Kern's evocative 1927 song from the musical "Showboat:" "Can't Help Lovin' dat Man," the encore version of Michael Jackson and Lionel Ritchie's "We Are the World" (which used different, more familiar sections of that song than the choir's rendition in the program proper), Elvis' poignant, bittersweet hit "Can't Help Falling in Love," and Neil Diamond's "Sweet Caroline," with its irresistible refrain.  The choir had a rollicking good time with Jerry Lee Lewis's "Great Balls of Fire," while Patsy Cline's "Crazy" showed off very nice interplay between different sections of the choir.  We didn't recognize Stevie Wonder's song "I Wish," but a quartet (and guitarist) did a first-rate job with it.  Another highlight of the show was Sting's "Fields of Gold," sung by a septet wearing Klimitian gold scarves (a male solo section was particularly well done).
The choir's December 2014 concert was a perfect way to ring in the Christmas season, with a selection of carols and hymns that perfectly evoked the joy and anticipation of that special time of year.  Highlights included a rendition of the haunting "Huron Carol" by women alone; a lovely intertwining of two beloved pieces ("The First Noel" and Pachelbel's "Canon") which rose to a thrilling crescendo; the distinctive "Welcome Christmas" from "The Grinch Who Stole Christmas," and the just for fun "You're a Mean One, Mr. Grinch," from the same source.  (A brief appearance by a lone cross-dressing Valkyrie may have strayed too far into silliness of a 'panto'-ilk; but that's a minor cavil.)  The show was a seasonal hit, and supplementing the fine choristers with memorable flute sections by guest flautist Joanne Averill-Rocha was a real highlight!
Kudos to: Music Director Michael Morgan, Assistant Director Liz Araujo, and the entire choir. As of 2015, the choir is a mere two years out from its 50th anniversary. Durham Region is lucky to have you!
********************************
The Clarington Concert Band
The Clarington Concert Band, under Music Director Barrie Hodgins, is nothing short of a treat to hear in action.  (As their charming master of ceremonies, Colin Rowe, puts it, "We're a little band, but we think big."  And, my, does it show – in all sorts of good ways!)  That certainly was true of their April 2015 concert, which combined traditional band marches with repertoire as diverse as Andrew Lloyd Webber's stage musicals and George Gershwin's great Americana.  Indeed, medleys of work by those two composers were among the very best of the evening, with special mention for the band's "Rhapsody in Blue."  But those highlights had plenty of close competitors, what with the utterly infectious "Radetzky March" by Johann Strauss Sr. (1848), the rousing "A Party in Third Class" (from the movie "Titanic"), and the Scottish composition "Pertshire Majesty," which opens with a solo, before unfolding in majestic, epic sweep.  And, in an embarrassment of riches, the band by joined by several guests. The Oshawa Legion Pipes and Drums, in full Scottish regalia, were a very welcome addition to the evening.  Their medleys from the land of highlands and lochs (tunes like "Mari's Wedding, made famous by The Rankins, and "Westering Home Keel Roe") were very engaging.  We wish, however, that the dozen or so pipers and drummers had taken up a linear station in the central aisle, where they'd have been more readily visible than in the circular formation they assumed at the front of the hall.  And the band's two vocal guests – Father Paul Massel, a musical stage pro turned Catholic priest and Donna Lajeunesse – were riveting in "I Dreamed a Dream" from "Les Misérables" and "If I Loved You" from "Carousel."  And the esteemed guest conductor/composer Bobby Herriot took the stage to conduct his own lively, bouncy, and fun composition "Trumpet Time Polka."  Herriot also conducted Howard Cable's "Scottish Rhapsody," a tribute to Scotland's favorite son, Robbie Burns, which had a forceful opening and a very nice trumpet solo section with changing pace and tone.
***********************************
Oshawa Opera
For the new kid on the musical block, Oshawa Opera, under its artistic director Kristine Dandavino, continued to impress in this, its second, season.  Five opera-in-concert productions were on offer, three of which we were fortunate enough to attend.  Both offered first-rate operatic voices in action, to piano accompaniment.  This is opera boiled down to its essentials:  There are no sets or costumes (though the men and women are nicely adorned in formal attire), but they're not needed.  What is there (and how!) are skilled operatic voices – voices that bring this music, these stories, and these characters to life.  Oshawa Opera is getting respectably-sized audiences; but they deserve a crowd – so spread the word.
First up was the October 2014 production of "Norma."  First performed in 1831, Vincenzo Bellini's story of tragic love tells of an ill-fated Druid priestess and her Roman paramour in Gaul of 50 B.C.  The standout of the opera was its "Casta diva" section (the first section that was familiar to one who is not extremely conversant in the form of opera):  It opened with a piano solo, then moves along to a moving solo by the opera's tragic heroine (Suzanne Kilgore's Norma).  The "Va crudele – Vieni in Roma" section had some very good two-person dialogue and verbal interplay – as did the subsequent "Sola, furtive, al tempio – Oh non tremare" section's exchange between Norma and Clothilde (Natalya Matyusheva), a dialogue that merged to pleasing unison.  An impassioned duet between Norma and Adalgisa (Kristine Dandavino) was another musical (and emotional) highlight of the production, followed a little later by a likewise noteworthy duet between Norma and Pollione (Dillon Palmer).  Although Oshawa Opera does not have access to a surtitles system to project an English translation of "Norma's" Italian lyrics above the performers, a printed guide to the story managed to keep the audience in the know.  Wayne Line and Jeffery Boyd rounded out the cast, with Oksana Vignan on piano.
You don't have to be an opera-adept to be familiar with parts of Mozart's ever-popular "The Magic Flute," which Oshawa Opera presented in English in November 2014.  A brush with laryngitis didn't stop Peter Bass from stealing the show as the bird-catcher Papageno.  Timid but boastful, this loveable operatic favorite is part fool, part good man, part everyman who lets regular folks enter a larger-than-life world of high romance and magic.  (In some respects, he is a precursor to the hobbits in Tolkien's epic fantasies.)  Maybe the patter-songs of Gilbert & Sullivan found inspiration in this unlikely hero's fast-paced patter:  "Now Papageno's free to chatter."  When another character admonishes him, that, "Your tongue is wagging day and night," Papageno is forced to admit that, "My chattering by day and night lost me my girl – and serve me right."  Reunited with his female opposite number, Papagena (Sarah Christina Steinert, who played the lead in last season's "Carmen"), the pair sing what may be this opera's best-known (and best-loved) duet: "Pa Pa Pa Pa Pa."  Other highlights are a nice trio with Tamino (Joseph Lévesque), Pamina (Emily Ding), and Sarastro (George Ossipov); a very pleasing quintet with Pageno, Tamino, and three ladies; and a nice quartet with Pamina and three boys.  Those same three boys (who are actually girls playing boys) save the day on occasion and have good advice on offer:  "You have only one life. Live it while you can."  Abigail Freeman (as the intriguingly named Queen of the Night) and the rest of the good-sized cast also acquit themselves well.
In April 2015, it was the turn of Giuseppe Verdi's "La Traviata." It was presented in its original Italian, with program notes to help listeners interpret the general sequence of events in its three-act story of doomed love.  The second section is a famous one, instantly familiar to opera devotees – and to the rest of us.  Another highlight is an emphatic high-pitched trilling section (did we hear the word "gioia" or joy?) by the heroine (Jennifer Carter's Violetta), with a male's response from the venue's balcony.  And Wayne Line (as Germont Sr.) gets a forcefully impassioned section late in the opera. Jason Lamont (as the male lead Germont), Kim Sartor, Allessandra Paonessa, Fabián Arciniegas, Michael Robert-Broider, and Keith O'Brien play the other solo parts, while a chorus of ten does a good job assisting in one scene.
*************************************
Espressivo Singers
A compact auditioned women's choir singing sacred music (often in Latin and French) is a novelty for Durham Region – and a welcome
one at that!  Artistic director John-Charles Coolen has crafted a 15-women choir that has a sure command of its difficult repertoire.  Much of the music (what a novice might perceive as lesser known cousins to Handel's "Messiah" in style and sacred subject matter) may be unfamiliar to the layman, but, its beauty is instantly recognizable.  At their May 2015 concert, titled "Musique sacrée," the focus was on the sacred music of France, across the span of a century.  Many of the composers featured were contemporaries, and the selections on offer were a virtuoso tour of the evolution of one branch of music's intricate tree.  Nowhere was that better illustrated than in two side-by-side compositions by different composers – Poulenc and Saint-Saëns – using exactly the same text as lyrics, but separated in style by the different century in which each was composed. The "text" (or lyrics) for these diverse works – by such composers as Gabriel Fauré, César Franck, and André Caplet – found its source in the masses and other liturgies of the Catholic Church.  Fauré's "Requiem," for example, uses the words of a funeral mass – and its fourth part, sung by guest local soprano Renée Trépanier, was the standout of the evening – hauntingly poignant and shiveringly beautiful. Other highlights included Maurice Duruflé's "Quatre motets sur des thèmes grégoriens," which takes its inspiration from Gregorian chants, as it effortlessly shifted its thematic strains from gentle to reverent:  "Thou are wholly beautiful, Mary."  Choir members Elena Makogonova, Maija Varis, and Daphne Brussée made an impression in Franck's "Panis angelicus," as Makogonova did again with her solo rendition of the same composer's "Ave Maria."  It wasn't a well-known treatment of its source text, but it certainly was lovely – as was the entire concert.  The Espressivo Singers are a still largely undiscovered treasure:  Seek them out.
One year ago, at their May 2014 concert, "World Beat," the Espressivo Singers featured an impressively international repertoire – with songs in Shona (an indigenous language of Zimbabwe), Hebrew, Persian, Spanish, and French.  And it was complemented by the equally eclectic use of percussion by four guest artists.  In an invigorating tour de force, those four guests (Richard Burrows, Michelle Hwu, Kris Maddigan, and Daniel Morphy), started at four different corners of the large room, armed with handheld devices, emitting bird-calls, baas, mooing, and the sound of bells.  They walked to the stage, where they gathered up xylophones, drums, and shaking instruments in an impressive display of improvisation.  Other highlights were "Ah! Si mon moine voulait danser!," early French-Canadian folk music performed by the choir, percussionists, and piano:  The result was lively and melodic.  A composition from Persia combined traditional music, a melancholy viola section, and a deliberate use of discordant sounds in navigating its artful changes of tempo.  For its part, the "Shona Mass" was a blend of musical motifs, as tribal music married Christian sacred music subject-matter. And choir member Blythe George gave her own composition, "Rain in the City," a musical sketch of downtown Toronto in a rainstorm, its world debut. The Espressivo Singers:  Did we say eclectic?  And did we say wow!
****************************************
Pickering Community Concert Band
The Pickering Community Concert Band, under Music Director Doug Manning, never fails to wow its audience.  They did so again in their two concerts this season.  Their April 2015 program was entitled "Music from Around the World," and that's exactly what it delivered.  Pride of place went to "Sensei's Ride on the Cherry Blossom Express," an atmospheric piece that very nicely evoked a steam-train traveling through the Japanese countryside.  Another highlight was "Kraftwerk," German music by a Dutch composer, which effectively combined dramatic, majestic, and martial elements.  A medley from "Slumdog Millionaire" transported us to India; while the very English selections from "Downton Abbey" (arranged by the band's own John Watkins) convinced us that we were truly to the manor born.  "Jamaican Sailaway" was lively fun, and band saxophonist Kristie Hunter conducted the debut of her own dramatic composition "Fanfare and Celebration."  Ms. Hunter further demonstrated her versatility elsewhere in the program, essaying the vocals for the band's lovely rendition of "Loch Lomond," a traditional Scottish melody arranged by band member Sean Breen.  Things came to an infectiously upbeat close with "Copacabana," which inspired some visiting red-hatters to start a conga-line in the aisles.  The band's guests for the concert were Bevin Wellwood, who did the vocals in a Gershwin medley, and the St. Andrew's Ajax Choir, whose big stand-out was the instantly familiar and poignant duet "The Prayer."  (The choir's rendition of "Every Day is a Gift from the Lord" had a very nice flute section.)  If the music weren't enough of a pleasure, the Pickering Community Concert Band always treats its audience to a generous selection of door-prizes and free snacks.  Talk about a class act!
The band's Christmas concert in December 2014 got off to a perfect start with a medley of favorite carols called "Celebrate Christmas."  Other highlights were in abundant supply – starting with an exception to the seasonal repertoire:  The Latin tunes in "Mambo Greats" were a marvelous showcase of the band's abilities, featuring a strong dramatic section.  The band's own Sean Breen conducted his own arrangement of "Hark! The Herald Angels Sing:"  Actually a medley going by the name of one of its component parts, it was a majestic rendition by the band.  Other medleys – "Merry Christmas, Everyone" and "Christmas Variants" – weren't far behind.  And a 'Bari Sax Trio,' consisting of just three musicians (Sean Breen, Kristie Hunter, and David Liscomb), yielded an intriguingly different sound with their version of "We Wish You a Bari Christmas!"  The band's guest for this concert was singer Marsala Lukianchuk, who added a jazzy touch to her vocals.
***************************************
Ontario Philharmonic
How lucky we are to have one of Canada's best symphony orchestras right here in Durham Region!  Five concerts were
presented in this 58th season of the Ontario Philharmonic (OP), and we were fortunate enough to attend two of them.  As always, Music Director Marco Parisotto (who now divides his time between Durham and his post leading the Jalisco Philharmonic in Mexico) matched a challenging repertoire with first-rate musicianship on the part of the orchestra members and guest artists.  And the restored heritage venue, Oshawa's Regent Theater (complete with its great domed ceiling with chandeliers and ornate plastic work in cobalt blue, white, and gold), provides a most congenial setting in which to enjoy such sublime music.  On the downside, we bid adieu to the OP's charming longtime Executive Director, Monica Anguiano.  She'll be missed.
The emphasis this season was on Beethoven, and the third concert in the line-up, in January 2015, divided its program between that composer and two other greats.  First up was the Overture to Mozart's "Marriage of Figaro," performed by the OP's guests, the Durham Youth Orchestra.  The music was lively and instantly familiar; the performance nicely self-assured.  Then came the main attraction of the first half of the program – an elegantly refined performance of Beethoven's "Triple Concerto op. 56 in C major" by the OP, with three featured soloists, who donated their services on this evening to benefit the OP.  Jacques Israelievitch (who was concertmaster at the TSO for 20 years and who is now Music Director of the Koffler Chamber Orchestra) was on violin, Benjamin Smith was on piano, and the OP's own Jihyun Ahn was on cello.  The result was a delight:  In a standout section, the strings answer the horns emphatically; and it all ends with a flourish.  The concerto's second part opens with a melancholy section featuring the cello; from there, it offered many sections that showed off each of the three soloists to strong effect.  To close out the concert's first half, we were treated to a little encore by a French composer that showcased the soloists on their own.  The second half of the program was devoted to Schubert's "Symphony No. 9, D944 in C major," also known as "The Great."  And what an apt moniker it is.  In its first part, majestic notes come in counterpoint to gentle ones.  Here was power and emotion in exulting music performed by a big orchestra – the combined musicians of the OP and their young counterparts from the Durham Youth Orchestra.  A slower second section was followed by the irresistible dramatic energy of the third. Bravo to Monsieur Parisotto and all of the evening's musical artists!
The OP closed its season in May 2015 with an all-Beethoven program.  It started with "Prometheus Overture, op. 42," a nine-minute piece (full of dramatic crescendos) that conjured creative forces surging ahead and a proverbial spark illuminating the void.  Next up was "Piano Concerto No. 4 op. 58 in G major," featuring guest pianist Sheng Cai.  His piano work went from lilting to emphatic in a moment.  And the piano sections had what sounded (to a layman's ears) like a counterpoint relationship with the orchestra, part of a musical conversation between solo piano and the orchestra proper.  The second part of the concerto was more melodic, with playful, even coquettish, sections.  After the intermission, Sheng Cai rejoined the OP for "Piano Concerto No. 5 op. 73 in E-flat major," also known as "The Emperor."  It got off to a very lively start, evoking a sense of high adventure and strong emotions.  A later section was devoted to regal themes, and the result was very pleasing.  But the concerto's second part took pride of place.  Completely different in tone from what preceded it, it started off soft, lyrical, and romantic.  That segued to an instantly recognizable, well-nigh unforgettable section that was just plain thrilling; happily, that section's themes recurred throughout the balance of the concerto.  It was well-earned standing ovations all around!
*************************************
Durham Philharmonic Choir
The Durham Philharmonic Choir (DPC), under Music Director Robert Philips, offered four concerts this season, and we were delighted to attend two of them.  And, after nearly a quarter-century, the choir has never sounded better.
The DPC's "Feast of Carols" in December 2014 was a highlight of the season, with a program of scared music, and a 25-player chamber orchestra accompanying the choir.  Two guest vocalists were also on hand, in the person of soprano Laura Klassen and baritone Gene Wu.  It started with selections from Handel's beloved "Messiah."  Here, the standouts were the majestic and rousing "Glory to God" and the joyful "Rejoice Greatly, O Daughter of Zion."  Elsewhere, a rendition of the timeless hymn, "O Come All Ye Faithful" sent shivers of emotion through the audience.  And there was lovely unison evident in "The First Nowell" by choir and orchestra.  Soprano Klassen shone in a more modern piece, John Rutter's "Christmas Night," and she also made an impression in her solo piece (again from "Messiah") with the orchestra, "He Shall Feed His Flock."  Gentleness was the hallmark of "A Celtic Carol" and of "Myn Lyking," and the latter composition also evoked a nice Old English sound.  Randol Bass' modern piece "Gloria" may have been unfamiliar, but, my, was it ever rousing.  The concert closed with a well-named "Feast of Carols," which began with an orchestral prologue and then swept broadly across a multitude of much-loved sacred hymns and carols, often in only a few notes (and words) each:  None was better at showcasing the choir than "The Holly and the Ivy."  The DPC gave proof positive, as they always do, that good music can give tangible heartfelt life to the most moving milestones in the year.    

The DPC closed out its season in May 2015 with "A Canadian Choral Tapestry," consisting of music about Canada, music by Canadian composers, and music written for Canadian choirs.  Both of the evening's standouts had Maritimes' roots and both were popularized by Cape Breton's Rankin Family.  One of the pair, "Fare Thee Well Love," was irresistibly poignant and emotive.  The other, the inspiring "We Rise Again," was performed by the DPC's special guests, the Durham Girls Choir, directed by Emily Flynn, together with the women from the DPC.  The guest performers were very good, delivering a rendition of "Tell Me Ma" that was as fun as it was instantly familiar, and offering a very different version of a song, "She's Like the Swallow," that their grown-up counterparts had performed earlier in the program.  Other highlights from the DPC included the poetically patriotic ode to a place, Gilles Vigneault's "Mon Pays" ("Mon pays ce n'est pas un pays, c'est l'hiver"), the nostalgic "Song for Peace," which builds in intensity as it goes with pleasing changes in speed, and the short but memorable "Celtic Prayer," with its moving lyrics:  "May you see the face of God in everyone you meet, and may everyone you meet see the face of God in you."  In an embarrassment of riches, DPC also treated the audience to a solo performance by its recent scholarship winner, Meagan Turner, who performed a Bach violin concerto in three movements with adept polish and panache.
***********************************
Durham Girls' Choir
The Durham Girls' Choir has been a fixture in the region since 1972.   They closed their season in May 2015 with a concert dubbed "A Life That's Good," under director Emily Flynn, and life did indeed feel good for members of the audience.  The junior and senior choirs combined for some songs and sang separately for others.  Among the highlights were the poignant "Hidden Away," an emotive song about longing in a personal relationship; the wonderful "We Rise Again," an Atlantic Canada anthem of resilience and hope that manages to incorporate references to everything from immigration to the sea; the sweet and gently nostalgic "Song for the Mira" (a river in Cape Breton); and the familiar Simon & Garfunkle song "Bride Over Troubled Water."  The choirs were joined by guest vocalist Kate Suhr, a real pro with a lovely, versatile voice and strong credentials as a songwriter, too:  Her original composition, with the refrain, "There must be something more than a broken heart," was a standout.  Elsewhere, "Can You Hear" was a very nice showcase for the different sections of the choir; and two of the songs we heard them sing as guests at an earlier concert – "She's Like the Swallow" and "Tell Me Ma" – made just as much an impression the second time around.   A duet from the stage musical "Wicked," called "For Good," showed two very appealing voices off to good effect.   The choir's accompanist, Sara Cain on piano, was a bonus, as were the four members (Paul Brogee, AJ Fisico, Jay Foster, and Josh Weiss) of the guest band, Long Range Hustle, on instruments ranging from guitars to violins to drums to piano – and, in one case, voice.  All in all, it was a delightful evening.
******************************************************
Oshawa Opera makes a splash with its inaugural season!
© Reviewed by John Arkelian
There's a new kid on the musical block in the eastern reaches of the Greater Toronto Area, and it is an oh-so-welcome addition to the cultural neighborhood.  We're taking about Oshawa Opera, which is the brainchild of mezzo-soprano Kristine Dandavino.  Her audacious goal is to bring first-class operatic performances to the residents of suburbia.  Drawing her talented performers from the ranks of professional operatic vocalists, some of whom, like her, happen to reside in the region, Dandavino has gotten off to a marvelously auspicious start with her first three concerts.
Oshawa Opera made a convincing debut on October 6, 2013 with its
"Afternoon at the Opera." Seven vocalists sang famous duets and solos from a variety of sources.  The standouts included a rousing rendition
by Stuart Graham of "Compiacente a' colloqui" from Giordano's "Andrea Chénier;" a playful, but strong rendition of "Largo al factotum" (complete with its instantly recognizable "Figaro, Figaro" refrain) from Rossini's "The Barber of Seville" by Olivier Laquerrre, who started singing in the lobby and strolled in smiling;  Sarah Christina Steinert singing "Habanera" from
"Carmen;" Jacqueline McIntyre and Kristine Dandavino singing "Belle Nuit" from Offenbach's "Les contes d'Hoffmann;" Dandavino singing the impassioned "Condotta ell'era in ceppi" from Verdi's "Il Trovatore;" and five singers combining forces in "Hm! Hm! Hm! Hm!" from Mozart's "The Magic Flute" – a nice flourish of humor to finish the show.  Instrumentalists Meagan Turner (on violin) and Joanne Anverill-Rocha (on flute) contributed two pieces, including the exquisite "Flower Duet" from Delibes' "Lakmé," and five members of the choir "She Sings!" performed one piece.  All in all, it was an impressive start for a new venture that left us wanting more.
And more is exactly what we got, on February 16, 2014, when Oshawa Opera presented a condensed version of the opera "Carmen" by Bizet.  The cast of six consisted of Sarah Christina Steinert as Carmen, together with Jason Lamont, Jacqueline McIntyre, Michael Robert-Broder, Rachel Cleland, and Gillian Grossman.  Kristine Dandavino (on piano) and Joanne Averill-Rocha (on flute) provided the instrumental music, and a chorus of youngsters was heard in early sections.  The result was memorable, moving, and, yes, thrilling, with "Habanera," "Pres des ramparts de Seville" (which was positively drenched in the spirit of Espana), "Les tringles des sisters tintaient," and "Votre toast, je peux vous le rendre" (in which a blood-stained toreador gives dramatic voice) providing the concert standouts.  The result was a sheer delight, with first-rate work from all concerned, led by the riveting Sarah Christina Steinert in the title role as the ill-fated femme fatale:  She looked – and sounded – the part, perfectly.
Oshawa Opera's third concert of the season, on March 30, 2014, was a bold venture into musically difficult terrain, with Gustav Mahler's "The Song of the Earth," sung by Dillon Palmer and Kristine Dandavino, with William Shookhoff on piano.  Mahler's blend of Schopenhauer's philosophy, German poetry, and Asian musical elements is regarded as a masterful work.  An introspective reflection on man's place in the world, it is not as instantly accessible (or recognizable to laymen) as the repertoire in Oshawa Opera's first two concerts.  But it captured the attention and interest of its listeners – and held it, with first-rate performances.  Dandavino deserves kudos for daring to include such challenging repertoire in a community that might not be perceived to be a receptive environment for it.  She rose to the challenge and left her audience with a very memorable first season.  We can't wait for Oshawa Opera's presentation of "The Magic Flute" in November 2014.
Copyright © 2014 by John Arkelian.
***********************************************************
The Music of the Night
© Reviewed by John Arkelian
The opening chords came abruptly and without warning, nearly knocking the
audience from their seats as the acclaimed tenor Michael Burgess gave forceful voice to "The Circle of Life."  His voice had all the magnificent power to move listeners that made Burgess famous and beloved for his three and a half years in the starring role as Jean Valjean in the original Toronto production of "Les Misérables." He came to Oshawa's historic Regent Theater (which was proudly sporting a restored ornate plaster ceiling bedecked in cobalt blue and gold trim) on Saturday, October 19, 2013 for a one-man benefit concert to support the Ontario Philharmonic.  Durham's very own symphony orchestra has been world-class for years, and its musical pedigree shows in every performance.  Burgess' tour de force concert was no exception.  Accompanied by David Warrack on piano and Durham's own Liane James on harp, the tenor took the audience with him through a gamut of emotions with such stand-outs as "You Raise Me Up," "Somewhere" (from "West Side Story"), "Man of La Mancha," "Wishing You Were Somehow Here Again," "The Music of the Night," and the irresistibly romantic "Love Me, That's All I Ask of You" (from "The Phantom of the Opera"), and Leonard Cohen's "Hallelujah."   But the ultimate best of the best were two songs from the great "Les Miz:"  "Empty Chairs" and Burgess' signature piece, "Bring Him Home."  It was almost too sublimely beautiful to endure!
The OP reconvenes on November 2, 2013 (at the Regent) and November 5th at Toronto's Koerner Hall for a Hebraic Rhapsody with cello phenomenon Matt Haimovitz.
Speaking of the Ontario Philharmonic, we first encountered Durham concert pianist Beatriz Boizan as a guest artist at one of their concerts in Spring 2012.  On October 18, 2013, Boizan was the solo artist in her own concert, aptly dubbed The Art of the Piano.  Toronto's intimate Gallery 345 was the venue for an evening of superlatives.  One of the composers on offer was
Ignacio Cervantes, about whom the performer said, "He does not write a lot of notes; but the ones he wrote, he meant!"  How true!  The proffered Selections from "Danzas Cubanas" offered simplicity, symmetry, and playful exuberance.  For its part, the instantly familiar Liszt's "Etude No.3 in G-sharp minor 'La Campanella'" thrilled with its patter-like trills and twirls and its sudden rush of emotion.  Then, Albeniz's "Corpus Christi en Sevilla (from "Suite Iberia Book I") offered a rhythmic, passionate melody, folkloric tunefulness, and a conjured vision of the drifting sands of time.  Next came De Falla's "Ritual Fire Dance," an irresistible standout that was fast, furious, and full of feeling.  But pride of place has to go to Lecuona's "Malaguena" (from "Suite Andalusia").  Here, surely, was Espaňa herself — a nation embodied in music.  From the land of gypsy and flamenco music, the piece positively smoldered with power and drama and speed.  It was a triumph for Boizan, whose winning personality exuded personal charm and authenticity —  in lovely communion with her sure-handed, dazzling command for diverse repertoire.
For more about Beatriz Boizan, visit http://www.beatrizboizan.com
Beatriz Boizan played on Gallery 345's own nine-foot Baldwin grand piano.  The gallery, situated at 345 Sourauen Avenue (south of Bloor and west of Dufferin) in Toronto, has a regular, and very enticing, line-up of performances.  It is directed by New York native Edward Epstein.  To learn more, visit http://gallery345.com/
Copyright © October 2013 by John Arkelian.
********************************************************
"A Zoological Fantasy"
© Reviewed by John Arkelian
The Ontario Philharmonic closed out its season with two performances of a mixed program on April 28, 2012 at Oshawa's Regent Theater.  Things got
off to a lively start with Darius Milhaud's "Scaramouche," a piano duet with eclectic changes in tempo.  The soloists were two young pianists with roots right here in Durham Region — Cuban-born Beatriz Boizan and 13-year-old Joel Zhang.  Boizan stayed on stage for the next piece, the Spanish composer Joaquin Turina's "Rapsodia Sinfonica" — a romantic dialogue between piano and orchestra.  The word tempestuous comes to mind.  Sounding like the score from a 1940's movie, it offered lots of intensity and speed, with a nice part for lead violinist Conrad Chow.  Musical storytelling of a more literal sort followed, with Sergei Prokofiev's instantly familiar "Peter and the Wolf." Typically Russian, the music was exotic, bold, and irresistibly emotional — sending shivers of delight, even as its themes for Peter and the hunters brought to mind the same composer's masterfully balletic score for "Romeo and Juliet." The weak link was the spoken-word narration.  Television host Christian Pritchard did serviceable work, but to make a real impact, the narration needed the finely-honed acting skills and gravitas of a Christopher Plummer, James Earl Jones, or the late, lamented Jonathan Frid; or the folksy charm of a Burl Ives. Truth be told, though, Prokofiev's music tells the story just fine on its own; words are really superfluous.
After the intermission, we were treated to the standout of the evening — a dramatic, powerful performance of Franz Liszt's "Hungarian Rhapsody No. 2." Instantly recognizable (and riveting) from its first notes, this breathtaking work held listeners rapt.  Music Director and Conductor Marco Parisotto brought his customary energy, finesse, and control to the piece; and the same can be said for Boizan.  The evening's final piece, Camille Saint-Saens' "Carnival of the Animals," which was comprised of fourteen short movements or vignettes, shone in its serene "Aquarium" section, its percussion-driven "Fossils" section, and its achingly yearning "Swan" section.  (The spoken-word narration was, again, a needless interruption to the evocative music.)  Here's hoping the Ontario Philharmonic will perform the same composer's "Symphony No. 3" in a future season.
© May 2012 by John Arkelian.
*****************************************************************
"Big Apple Bound"
© Reviewed by John Arkelian
Durham's esteemed County Town Singers, under Music Director Barbara Ouelette, are taking their show on the road this summer as Canada's representatives at an international choir festival in New York City.  They'll be performing at the United Nations headquarters as well as the Lincoln Center; and, if their May 5, 2012 concert in Courtice is any indication, they're all set to take a memorable bite out of the Big Apple.  The concert featured 19 songs by Canadian composers — works made famous by performers as diverse as Stan Rogers, Bryan Adams, Joni Mitchell, Avril Lavigne, and Celine Dion.  A couple of familiar songs ("Big Yellow Taxi" and "Everything I Do") had unfamiliar arrangements.  The evening's standouts were the lovely, touching "A Mother's Prayer;" the inspirational "We Rise Again," featuring a first-rate solo by Jennifer Stewart, who sings like a pro; Leonard Cohen's moving "Hallelujah;" the infectiously zestful 200-year-old sea-shanty "What Shall We Do with a Drunken Sailor?;"  Neil Young's familiar, bittersweet pop song "After the Gold Rush;" the rousing "O Siem" by Inuit-Canadian Susan Aglukark, a song that's quintessentially Canadian with lyrics like, "We're all one family, We're all the same;" the lovely French-Canadian folksong "Ah Si Mon Moine Voulait Danser;" and Stephan Moccio's "I Believe," the optimism-evoking theme of Canada's very own 2010 Vancouver Olympics.  The choir left its appreciative audience uplifted and happy!
© May 2012 by John Arkelian.
****************************************************************
A Latin Romance
A romantically enchanted evening was in store for the sold-out audience at
Toronto's Glenn Gould Studio on April 14, 2012.  All of the components were there — a talented quintet of musicians, an intimate venue, and the music of South American composers — and it all came together in one word — captivating.  Ensemble Vivant's artistic director and abundantly gifted pianist Catherine Wilson was joined on this evening by jazz great Dave Young on bass, Erica Beston on violin, Sybil Herceg-Shanahan on cello, and Norman Hathaway on violin and viola.  Each of the five had individual moments to shine in repertoire gleaned mostly from their latest album, "Homage to Astor Piazzolla," and, collectively, these talented musicians demonstrated all the passion, range, and sheer virtuosity which chamber music has to offer.  One of the stand-outs was Carmago Guarnieri's "Dansa Negra," which combined classical elements with its composer's Brazilian roots.  It opened with solo piano and a lovely, bittersweet, jazzy melody that hinted of folk and spiritual music influences.  Other instruments joined in one-by-one; and the pleasing over-all effect was that of a symphony in miniature.
The other stand-out was Piazzolla's "Ave Maria," which originally appeared in the score for an Italian film before finding a new name and a life of its own off the silver screen.  J.S. Bach's "Little Fugue" started off not just the evening, but also the fugue motif adopted by the predominately Latin cast of composers.  That was apparent in the very next piece, Piazzolla's "Fuga Y Misterio," in which fast-paced patter gave way to a dreamily languid romantic section (which showcased the piano), like a tango morphing into a slow dance.  And dance sprang instantly to mind in "Serenata" by the American composer Leroy Anderson.  This time, the violin took pride of place, while the music conjured a swank New York City nightclub with elegant couples gliding across a dance floor.  Elsewhere, tango met ragtime in two pieces by the Brazilian composer Ernesto Nazareth.  But Catherine Wilson and Ensemble Vivant provided the best "dance" of all — heartfelt, emotive, and full of musical joie de vivre, it was not just a romantic evening, it was also a musically fulfilling one.
Review © April 2012 by John Arkelian.
******************************************************************
A Balm in Gilead
In a perfect musical embodiment of Good Friday, the Durham Philharmonic Choir, under its director Robert Phillips, hit all the right notes in its April 6, 2012 concert at the stately St. George's Anglican Church in Oshawa.  The first half of the program was devoted to a work by K. Lee Scott, one of the leading contemporary composers of sacred music in the United States.  With lyrics drawn from the Book of Revelations and poet John Donne, Scott's "Requiem" adroitly combined influences as diverse as Faure, Rutter, and folk melodies, with modern elements like five-note "tone clusters."  The result was a thing of beauty — emotionally stirring the sacred spark within the listener's soul.  Its second section was triumphal and dramatic, then gentle, by turns, with a very nice flute section introducing the exquisite clarity of voice of guest soprano Marion Samuel-Stevens.  For its part, the fifth section ended with a shiver of spiritual delight, as guest mezzo Catherine Carew expertly pinch-hit for a baritone felled by the flu.  The second half of the concert was given over to an octet of individual selections, of which the stand-outs were:  Dawson's moving "There is a Balm in Gilead," Faure's gentle "Cantique de Jean Racine," and "Hallelujah" and "How Beautiful are the Feet" from Handel's masterwork "Messiah."
Review © April 2012 by John Arkelian.
******************************************************************
Music to Chase the February Blues Away
© By John Arkelian
On February 25, 2012, the Ontario Philharmonic, under Music Director and Conductor Marco Parisotto, demonstrated again why it is a gem in the crown of the region's cultural life.  The orchestra returned temporarily to its past home at the elegant and spacious Calvary Baptist Church in Oshawa while repairs are being effected to the Regent Theater's plastic ceiling.  The evening was devoted to all things Brahms.  The first half of the concert consisted of Brahms' Violin Concerto in D-major, op. 77; and South Korean-born violinist Ye-Eun Choi dazzled in her Ontario debut.  The first allegro section of the
work was a melodic dialogue between soloist and orchestra.  The program notes claim that it is not virtuoso music, but you could have fooled this reviewer.  It was an irresistible immersion in sweeping romanticism, with engaging changes in tempo and tone.  At various moments tempestuous, yearning, confident, questioning, happy, and bittersweet, the stand-out first section came to an end in a rousing finish.  By the third (and closing) section, we were treated to what the notes described as "rondo in structure, a Hungarian dance in style."  The closing section was certainly more rousing than the middle adagio section.  Offering up passion with a hint of the exotic, it was a genuine showstopper!  For the second half of the evening, we were treated to Brahms' Symphony No. 2 in D-Major, op. 73.  Critics refer to its pastoral serenity.  But its third movement offered pleasing bursts of emotional intensity, while  the intensity of the music in the fourth movement was flat-out and thrilling.  The concert was reprised in toto on February 28th at Toronto's Koerner Hall; and, by all accounts, the standing ovation it earned there was as eminently well-deserved as it had been in its home base of Oshawa!
The Clarington Concert Band, under its able new director John Kraus,
generously devoted half its concert on February 12, 2012 to guest violin soloist Andrew Sords, who was accompanied by Cheryl Duvall on piano.  He is based in the United States; she is based in Toronto. And they made beautiful music together at the Bowmanville venue.  An eleven-minute medley from Carmen thrilled with its musical representation of seduction, exhilaration, bullfighting, and a walk to one's doom.  Every bit as good was the Csardas (or Hungarian Dances) by Vittorio Monti.  The emotive passion of the music and the skill of the performers were utterly radiant.  Sords and Duvall also played work by Chopin, Debussy, and the Belgian composer Cesar Franck.  As for the band, they delivered a full-tilt program of excitement and energy, with stand-outs like Aaron Copland's "Hoe-Down" from Rodeo, a selection that was rousing, inspirational, and down-to-earth all at the same time.  The other hits of the evening were Czech composer Vaclav Nelhybel's March to Nowhere, which combined a
demanding percussion section with an endearing melody.  The band executed both elements with polish and finesse, as the piece gradually added more and more instruments to the mix.  Then there was Catherine McMichael's Cape Breton Postcard, which offered up memorable vignettes from this reviewer's favorite place in its three sections — The Dawn, The Mist, and The Thunderer.  The first of those sections was unforgettable, starting off, as it did, with sprightly Gaelic whimsy, then gathering the rolling power of wind and wave in a perfect musical representation of the land by the sea.
© 2012 by John Arkelian.
********************************************************************
Star-Crossed Lovers under a Starry Sky —
Music Inspired by Shakespeare
Concert review by John Arkelian
"For stony limits cannot hold love out / And what love can do that dares love attempt." (William Shakespeare, "Romeo and Juliet")
There is something magical about attending a concert or play under the stars on a summer evening — something akin to love, mayhap, something that speaks to us in music or word of imagination and beauty, of tremulous desire and fevered brow, and of dreams both monstrous and sublime.  The sublime was fully present on a wonderfully cool and breezy night on June 29, 2011 at a concert dubbed "Music Inspired by Shakespeare." The setting was the Rexall Center, an ultramodern tennis amphitheater on the grounds of York University in north Toronto.  The concert was part of the inaugural season of the BlackCreek Summer Music Festival, a newcomer to the cultural scene that aims to present top-flight work from classical music, opera, jazz, folk, Broadway, rock, and pop music, featuring some of the best and brightest of contemporary performers.
This evening featured acclaimed European conductor Lorin Maazel
leading the Castleton Festival Orchestra and Chorus.  Based in Virginia, that 89-musician strong orchestra, and its attendant 21-women chorus, is comprised of promising young (university-aged, from the look of them) musicians.  They were joined by the talented sopranos Joyce El-Khoury and Tharanga Goonetilleke.  But, the concert's first half was devoted to instrumental music from two great composers' takes on the story of "Romeo and Juliet." Who better to compose for the ballet inspired by Shakespeare'
s play about ill-fated love than Russian composers?   For the work of the greatest Russian composers, like that of so many Russian ballet and ice dancers, represents the very epitome of tumultuous passion and refined artistry.  And so it was on this evening.
Sergei Prokofiev's music for the inimical Montague and Capulet families is imperious and proud, full of gripping drama punctuated by gentle introspection.  It was the show-stopper of the evening.  The same composer's musical interpretation of the death of Tybalt is the stuff of somber dread and despair, with flashbacks to the protagonists' love theme.  Pyotr Ilyich Tchaikovsky's version of the same story is passionate, lyrical, and touching by turns, rising to the very heights of the ecstasy, and carrying a transfixed audience along on the journey.
There was a change of pace after the intermission, with the entire second
half of the concert devoted to selections from Felix Mendelssohn's "A Midsummer Night's Dream" Op. 21 & Op. 61.  The orchestra was joined by the chorus, the two su
blime guest sopranos, and, in a truly royal treat, by the acclaimed British actors of stage and screen Helen Mirren and Jeremy Irons.  Those accomplished thespians punctuated the music (which includes the famous "Wedding March," sounding especially grand with
a full orchestral rendition) with dramatic readings from Shakespeare's play:  "How fond we are of mishap and illusion."  Both actors were worth the price of admission all by themselves; but Irons was particularly outstanding (often bringing to mind the too little-known, in this his native country, Canad
ian virtuoso of the Shakespearian stage, Jonathan Frid) with his sure command of roles ranging from ribald to regal.  Together, actors, musicians, and vocalists earned the audience's enthusiastic kudos.  "To show our simple skill," indeed, as the Bard said in the most modest of understatement.
It was surprising to see as many empty seats as were evident at the June 29th concert.  True, the ticket prices are costly (too costly for many pocketbooks) and the price of parking on campus ($20) wildly exorbitant; but the quality of the concert was far, far too great to reconcile with anything less than a sold-out house.  Concert organizers ought to work on substantially reducing their prices; but they've got everything else right, with a summer program that offers delights from an eclectic range of musical genres.  Although the passage of aircraft far overhead was audible from time to time, it only competed with the orchestra for a few moments and then only during softer sections of the music.
© 2011 by John Arkelian.
**************************************************************
There and Back Again:  A Critic at Large
Concerts in Durham Region — Spring 2011
© By John Arkelian
The Pickering Community Concert Band, under Doug Manning, celebrated its 20th anniversary on April 16th.  If the concert was a tad shorter than the norm, to make room for various spoken acknowledgments and awards, the music itself was testimony to the band's mandate to bring together musicians of all ages and abilities to play and have fun.  Best in show was Ernesto Lecuona's "Malaguena." It is one of the band's favorites, and it was not hard to hear why.  Its enchanting swirl of musical colors and rhythms evoked everything from flamenco to bull-fighting, as it transported the listener to Spain with sounds that were at once exotic, passionate, and fast-paced.  "Winged Victory" by Brian Balmages was a close second.  A musical fantasy based on the sea-shanty "The Drunken Sailor," was the stuff of high adventure on the high seas — a stirring work with nice emotional sweep.  It was one of three compositions selected by the band for their competition in this year's Kinsmen Music Festival.  Honorable mention goes to Leopold Mozart's (Wolfgang's father) "Kinder Symphony," an exercise in good spirits written for toy instruments; and "Pickering Suite" by Vern Kennedy, the winning entry in a competition to honor the band's anniversary.  As catchy as a hockey-night theme, it opened with an effective flourish and proceeded to nice melodies and changes in tempo.  The evening ended with a lovely reception, complete with sparkling blue lights, a generous array of wine and cheese, and the music of the Brian Rose Little Big Band.  Bravo to all concerned for the concert and hospitality.
The Durham Philharmonic Choir, under Robert Phillips, closed out its season on Good Friday (April 22) with a capacity crowd at the stately St. George Anglican Church in Oshawa.  The concert was dedicated to the memory of local musical talent Monica Cotton.  The highlight of the first half was an arrangement of "Kumbayah" for men only that offered very nice part work by the bass and tenor sections.  The entire second half was devoted to a choir favorite, John Rutter's "Requiem." Its first section, "Requiem aeternam," opened with ominous instrumental music; it was followed by vocals that brought to mind the filmscore for "Ben-Hur," with melodies that were gentle, melodic, and at moments rousing.  The next section brought to mind a black spiritual.  Then, guest soprano Laura Klassen brought a lovely wistfulness to "Pie Jesu." Later, the "Agnus Dei" section opened with what brought to mind majestic choral music from "The Lord of the Rings" films, before closing with a gentle prayer in English.  All in all, the concert delivered what the DPC always offers — a fine combination of solemnity, reverence, beauty, and musical skill.
The Ontario Philharmonic closed out its season, under Marco Parisotto, on April 29 with an evening of music by Johannes Brahms — a concert it repeated the next night at Toronto's toney Koerner Hall.  The local venue was the nicely renovated Regent Theater in Oshawa, which is the OP's new home.  And an appealing venue it is, too, with comfortable seating, extremely generous legroom (what a blessed rarity at theaters!), and admirable sightlines — all of which would be the envy of better known Toronto theaters.  (On the down-side, however, the Regent's small lobby cannot comfortably accommodate a capacity crowd in intermission — a good reason why the building's owner (UOIT) should excavate a large new lobby below grade and connect it to the surface with wide, sweeping staircases and elevators.)   As to the music, acclaimed pianist Anton Kuerti was the featured guest for the first half — an assured performance of Brahms' difficult "Piano Concerto No. 1 in D minor, Op. 15," a work that is atmospheric, stately, and gentle, with sudden rising crescendos of intensity.  In the second half, the orchestra, which regularly demonstrates why it deserves to be known as one of the finest in Canada, performed Brahms' "Symphony No. 1 in C minor, Op. 68." For this reviewer, that work's energy, drama, and fast-pacing made it the memorable standout of the evening.
The Uxbridge Chamber Choir, under Thomas Baker, is another of the region's finest choirs, and they demonstrated why at their closing performance of the season on May 7.  (The concert was dedicated to the memory of longtime member Ruth Wade.)  The first half was devoted to selections from "All Night Vigil (Vespers), Op. 37" by Sergei Rachmaninoff, which the choir's director aptly described as "one of the most beautiful pieces of music ever composed."  Each section of the choir did a lovely job of giving vocal contrast to the others, with a result that was engrossing.  The second half was just for fun — with J.S. Bach's "A Peasant Cantata," a folksy, tongue-in-check confection that brought the form of operetta to mind.
The Clarington Concert Band, under Glenn Ward, never fails to deliver a good time, and their last concert of the season, on May 15, was no exception.  Things got off to an infectious start with popular works by Leroy Anderson like "Blue Tango," "Bugler's Holiday," and "The Syncopated Clock." There were plenty of standouts to follow, starting with Anderson's "The Irish Washerwoman," a piece which, despite its name, sounded like it sprang fully born from a John Wayne western or a cavalry march by General George Custer.  Building in tempo, it was rousing and irresistible!  The same goes for Anderson's fast and lively "The Rakes of Mallow;" and a medley of themes from Michael Kamen's 1991 filmscore for "Robin Hood: Prince of Thieves" (the Kevin Costner version); and the closing medley of Henry Mancini songs, like "Moon River," "Baby Elephant Walk," "Charade," "Dear Heart," and "Peter Gunn." Two other standouts came courtesy of guest soloists Fr. Paul Massel and Donna Lajeunesse. They sang an extended version of the duet "If I Loved You" from Rodgers & Hammerstein's "Carousel;" later, he sang "You Raise Me Up," and she sang "Someone to Watch Over Me." Here, truly, were downtown Toronto concert hall voices in the intimate setting of a suburban church!  The pair will join the band again this summer, and it's a three-way collaboration that's not to be missed! Contributions by the host church's young in-house singers were okay, but the Gospel-pop music they favored did not fit well with the rest of the concert's play-list.
***************************** **********************************
"Paco Peña's Flamenco Vivo"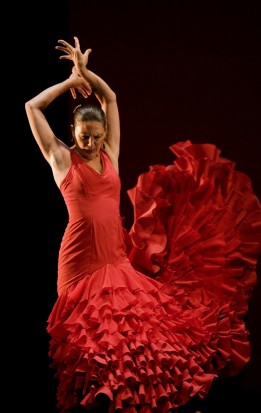 Reviewed by John Arkelian
The northern reaches of the Greater Toronto Area played host on March 4, 2011 to a virtuoso celebration of dance, song, and guitar from sunny Iberia.  The Markham Theater's single performance booking of Spanish flamenco guitar sensation Paco Peña's latest show, dubbed "Flamenco Vivo," was a hot-blooded hit with the appreciative sell-out audience.  And how could it be otherwise?  For here was the very embodiment of passion — captured in a kaleidoscopic swirl of supple dancers, emotive singers, and classical guitar work that transported the audience to the realm of raw, unabashed emotion.  Now based in London, England, Peña hails from the Andalucian city of Cordoba in southern Spain, where he made his first professional appearance with a guitar at the age of 12.  For Peña, flamenco is at once inextricably rooted in its place of origin and borderless:  "Although the roots of flamenco are deeply imbedded in the soil and culture of Andalucia…it nevertheless deals with emotional ingredients that are universal and timeless."  In its origins, flamenco was all about the singing.  Ironically, for non-Andalucian audiences, that forceful singing — typically a soloist belting-out inner angst in a full-voiced, rough-edged surge of emotion — is the one component of flamenco that's the least accessible.  There's nothing in it of 'glamour' or even conventional (by North American standards) musicality.  Instead, the name of the singer's game is visceral power — unconcerned with superficial niceties and grounded instead in a powerful wellspring of raw emotion.
Peña's show combined the master guitarist himself — a virtuoso of such musical discernment, range, and improvisational flair, that a solo classical guitar performance by the man alone would be more than worth the price of admission — and two colleagues on guitar, a barefoot percussionist who worked wonders with his instrument of choice (a wooden box), a pair of singers (one female, the other male) clad in plain black, and three dancers (a man and two women) whose lightning fast footwork, supple wrist and hand movements, ramrod posture, and stylized sexuality were to die for.  One of the dancers did double-duty, playfully accompanying Peña on castanets for one number.  The result was always mesmerizing and often thrilling, though, truth be told, it lacked some of the fierce impact of Peña's appearance in Quebec City in October 2009.  (And for reasons unknown, the female dancers were clad in much more subdued colors than in that earlier Canadian appearance.)
As to the venue, Markham Theater offers an eclectic, appealing array of performers each year — and admirable sightlines from any of its 530 seats.  In the minus-column, however, the seating occupied by this reviewer was woefully cramped.  Presumably, that is the trade-off for keeping all of the theater's seats within 20 meters of the stage; but comfort is too high a price to pay for mere proximity.
© 2011 by John Arkelian.
Photos courtesy of Paco Peña.
Note:  The accompanying photograph of a brightly-clad dancer is from Paco Peña's 2009 show in Québec City.  As noted above, the colors on offer in March 2011 were considerably more muted.
********************************************************************
On July 25.10
Bon Jovi in Concert
© Reviewed by Adriana Pacheco
Bon Jovi rocked out in Toronto to a packed Rogers Center on July 20 & 21, creating a memorable show for fans both old and new.  The band played hits from all eleven of their studio albums, which have sold over 130 million copies, including the 1986 anthem "Livin' on a Prayer" and "Work for the Working Man" from their new album "The Circle," which went platinum on the day of the concert.
The show kicked-off with an hour-long performance by guest artist Kid Rock, who revved the audience up as he danced around the stage in rock-and-roll frenzy.  He performed six songs, including his hit "All Summer Long," before the main act hit the stage to a plethora of screams from the predominately female audience of about thirty thousand.
True to the form of rock-and-roll, there were a lot of lights, flames, and fireworks, as well as repeated encouragement from John Bon Jovi for the fans to sing along:  "Finish the song!" he yelled to the screaming fans as the band segued into the end of their hit "You Give Love a Bad Name."  At one point, the fans started to sing the song "Wanted Dead or Alive" before Bon Jovi could start singing, causing him to flash a pair of perfect pearly whites, which caused the crowd to again break out into screams.
From beginning to end there was no lack of energy from either the audience or the band, even though they did not stop for an intermission, as so many others would have.  Massive screens showed close-ups of the band and doubled as spotlights.  All-in-all one thing can definitely be said for Bon Jovi:   When they do something, they go big.
Adriana Pacheco is a journalism student.